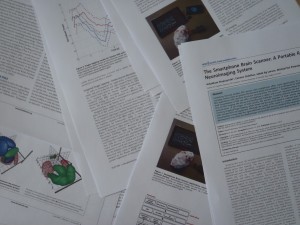 Associated publications from research project members:
Bayesian Correlated Component Analysis for inference of joint EEG activation
Andreas Trier Poulsen, Simon Kamronn, Lucas C. Parra, and Lars Kai Hansen, Pattern Recognition in Neuroimaging PRNI2014. To appear (2014).
The smartphone brain scanner: A portable real-time neuroimaging system, Arek Stopczynski, Carsten Stahlhut, J. Eeg Larsen, Michael Kai Petersen, Lars Kai Hansen, PLOS ONE 9 (2), e86733. (2014)
Frontal alpha oscillations distinguish leaders from followers: Multivariate decoding of mutually interacting brains, Ivana Konvalinka, Markus Bauer, Carsten Stahlhut, Lars Kai Hansen, Andreas Roepstorff, Chris D. Frith, NeuroImage 94, 79-88. (2014)
Privacy for Personal Neuroinformatics, Arkadiusz Stopczynski, Dazza Greenwood, Lars Kai Hansen, Alex Sandy Pentland.